So with my local gaming group scattered to the four winds, I've really just been painting for the last several months. I'd stopped by my FLGS and had brought a few minis with me to show the guys at the shop, and the topic of hosting a modeling/painting class came up. ...And for better or worse I volunteered.
So to help prepare for the class (coming up the weekend after next), I figured I'd organize my thoughts here on the ol' blog first and give everyone some insight into my process. Here's the brief outline of what I plan to discuss - expect a few posts covering the following topics over the next week!
1) Tools
Primer
Paint brushes
Wet palatte
2) Color choices
Basic color theory for non-artists
Base/Shade/Highlight
Painting in Black and White
Opacity considerations
3) Application techniques
Primer Colors
Color blocking
Drybrushing
Washes
Batch Painting
4) Fine details
Techniques
Waterslide transfers
5) Sealant and protection
Brush on vs. Spray
Gloss vs. Matte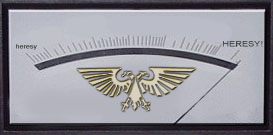 Now I'll be the first to admit I'm no golden demon level painter, but I do like to think of what I do as a good 'gaming standard' where the mini looks good on the table. By no means will I ever assert that the way I do things is the "right way" and I'm sure that many of you talented folks will be horrified by some of my upcoming blasphemies. That said, I'm a firm believer that with some planning and a little effort anyone can paint like me - hopefully the upcoming tips and tricks may prove useful!