Hello folks! I have been away from the blogosphere for several days, and in the interim it appears I've been nominated for a Stylish Blogger Award by several awesome bloggers. I wanted to take the time to thank all of you for the nomination - Klaus from
Dei Greci
John from
John's Toy Soldiers
, CounterFett from
All Things Fett
, Musings of a Smurf from, well
Musings of a Smurf,
and #2501 from
Musings of a Metal Mind
(that's a whole lot of musing!). I'm honored that the folks responsible for such amazing work think that my little corner of the web has some worthy stuff on it. Thank you all! I'm always pleasantly surprised by the overall positive feedback and sense of camraderie to be found out in the blogosphere, and I'm proud to be a part of it!
The rules;
Thank and link back to the person giving you the award
Share seven things about yourself
Select 10-15 blogs who you think deserve this award
Contact these bloggers and let them know about the award.
+++++
Some things about me:
1. I've been painting and playing 40k since 1987 with the release of 1st edition, prompting me to realize that 40,000 isn't just the year in which our favorite game is set, but it's sadly a decent estimation of how much money I've spent on the game in the last 24 years!
2. I play the electric bass in a prog rock band. We know we're never going to be big rock stars, but it's great fun and a wonderful creative outlet.
3. I have terrible hobby ADD. Just when I'm getting close to finishing an army I HEY LOOK AT THE NEW MINIS! GOTTA HAVE 'EM! Sigh...
4. In addition to the occasional game of 40k/Necromunda/Killzone, I run a Rogue Trader campaign for my local gaming group as one of the games for our twice-monthly RPG gatherings. On the opposite weekends I play in a D&D campaign that a friend runs for us. It can't all be bolters and chainswords after all!
5. Over the years I've probably spilled more paint than has been painted onto my miniatures. My hobby desk is covered in multi-colored spatters!
6. I'm a Colorado native and have yet to find a place I'd rather live than here. It's hard to beat 300+ days of sunshine a year!
7. fnord.
+++++
Other blogs who I feed deserve some recognition
- Granted, a number of these blogs have been nominated already, but they're ones that I find the most inspiring!
A Gentleman's Ones
- Brian has created some of the most awesome looking terrain that I've seen in a long time, using simple household materials. In addition, his Book Wardens are beautifully painted and have an awesome backstory.
Admiral Drax
- Admiral Drax was the inspiration for me to get into blogging in the first place, and is a constant source of inspiration with his guard.
Cyborg Trucker's Roleplaying and Wargaming
- More awesome conversions, not to mention his work with a C&C machine is epic!
Dreamforge Games
- The most beautiful resin-cast steampunk titans I've ever seen. Hands down. My wallet is DOOMED.
From the Warp
- Not only is it chock full of amazing articles by Ron, but the blogrolls are a constant stream of amazing!
Galaxy in Flames
- Killzone. KILLZONE! If you haven't played it, play it. It's awesome.
Le blog de Bigdaddy
- (In french) One of my favorite resinworkers, Bigdaddy was the sculptor of my Knight Paladin.
Musings of a Metal Mind
- His Adeptus Mechanicus and Tyracrons are things of terrible beauty. Some of my very favorite conversions of all time are to be found here.
Ricalopia
- I am blown away by the painting style and color choices, absolutely beautiful conversions as well.
The Anarchy of Anton
- Another top notch converter. I based my Venoms on his designs, which went together like a dream!
The Magnet Pro
- As a fellow Ad-Mech enthusiast, I'm really enjoying the fandex and conversion tips Lantz has been sharing.
The Warmaster's Revenge
- Beautiful paint jobs, tutorials, and interesting color palate ideas!
+++++
Thanks again to everyone who nominated me, and thanks to all of you listed above for all the awesome inspiration you've given me over the years!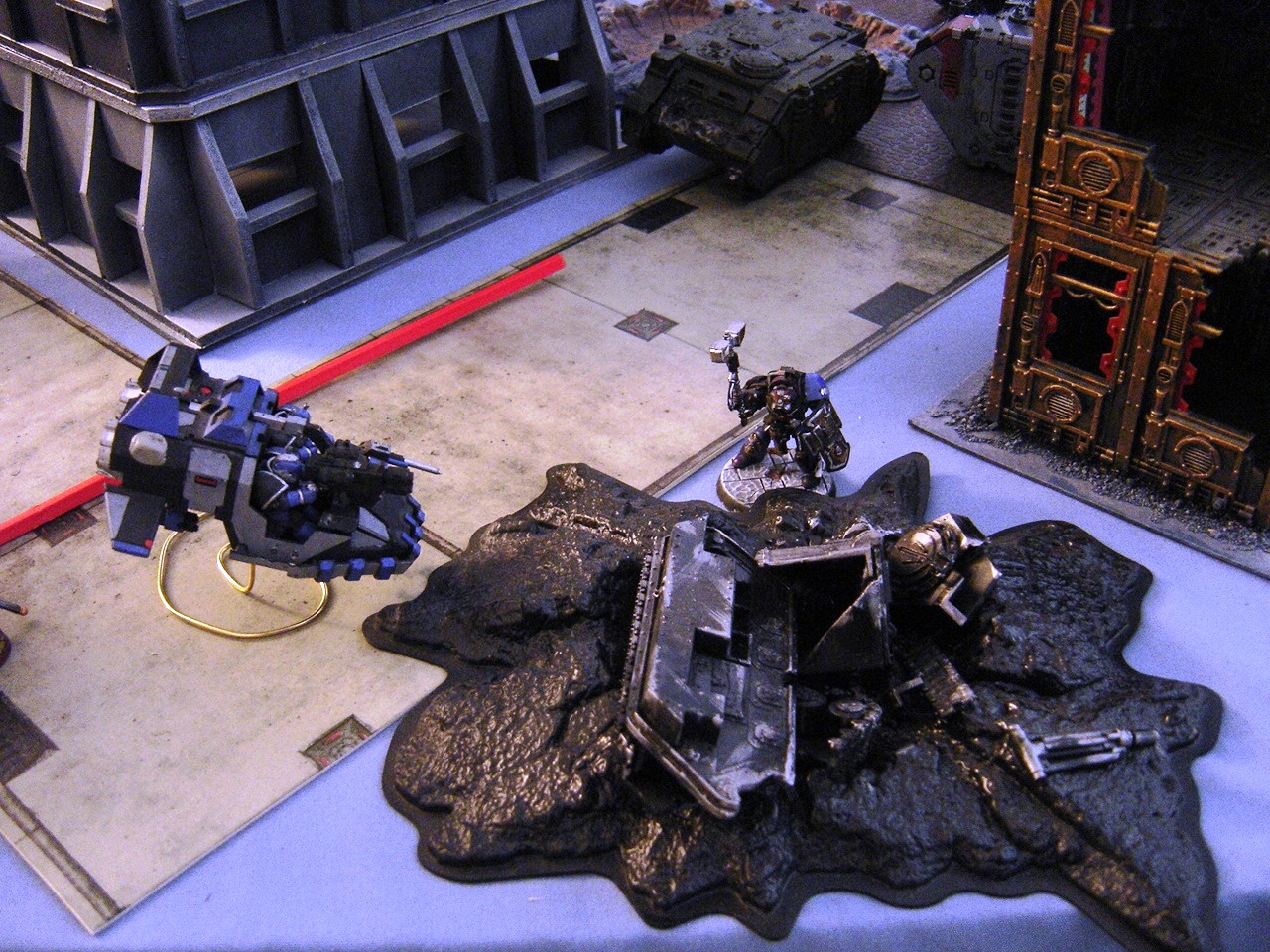 I'm working on the battle report for the game I hosted last Saturday, but here's a teaser of how things went... Heh.