First things first -
LuckyNo.5 over at Eye of Error
recently posted about his
Will Design For Models
business and I took him up on it (as my previous banner of the last three years was a hack MSPaint job). He solicited some ideas from me - I knew that I wanted to incorporate the 'real' picture of the 7th that I'd used previously, but other than that I gave him free reign. He provided me with several initial design ideas, one of which was more or less ideal and after a couple iterations he came up with the new banner proudly gracing the top of my blog! I was extremely pleased with the results - LuckyNo.5 was an absolute pleasure to work with, and I heartily recommend getting in contact with him if you're interested in a new banner! I was so pleased that I've commissioned a graphic to use for the banner on the tank below as well!
I've been keeping an eye out on ebay for an old Rogue Trader era Land Raider that wasn't ridiculously expensive, and was finally able to score one for a rather reasonable price. On the downside it definitely needed a little TLC before it would be usable for my Thousand Sons. Once it arrived it was obvious that it needed a thorough soak in Simple Green to remove the rather thickly-applied paint - after three days of alternating between soaking and scrubbing it came to light that the tank had been painted and repainted no less than three times!
No matter how long you soak and scrub however, there's always a wee bit of paint that stubbornly refuses to come off. Nevertheless, this is much, much cleaner than I was expecting. The Lascannons and Heavy Bolters that came with the original kit were a bit too bent and/or broken, so I took a queue from
Ron's Deathwing Land Raider
and re-purposed some current-era bits to re-arm the tank appropriately.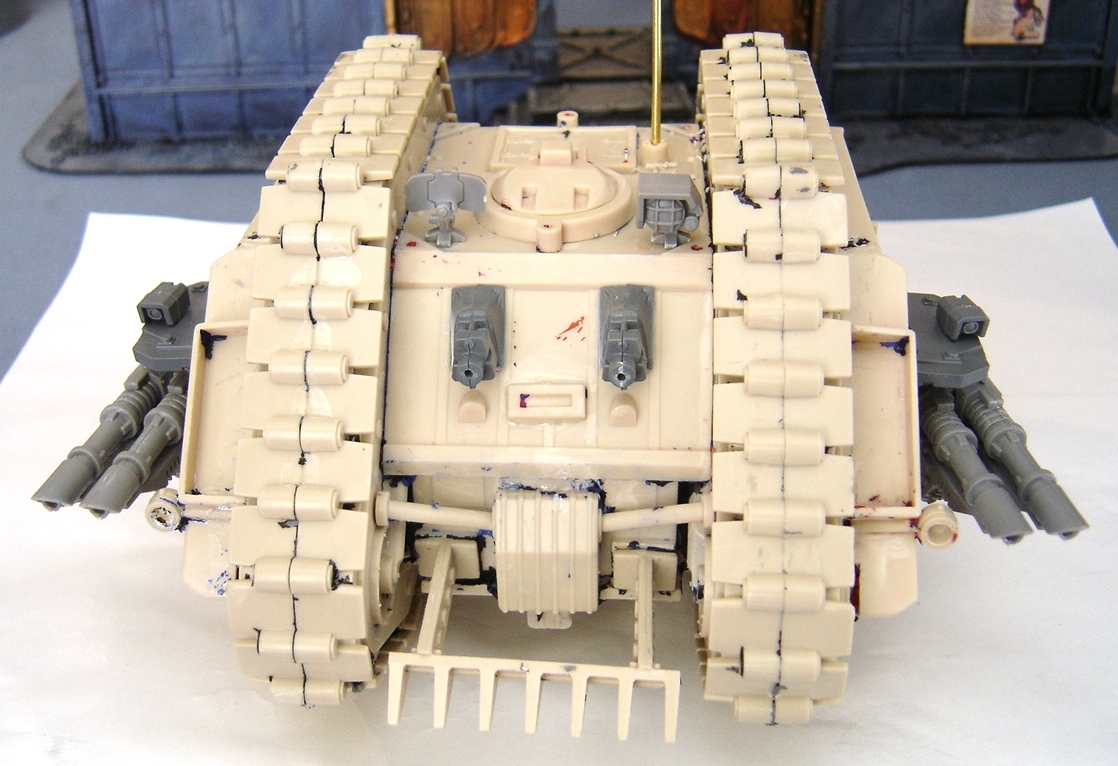 The side sponsons are a combination of Predator and Land Raider bits, while the Heavy Bolters are leftovers from the countless Chimeras I've built over the years. With the addition of some brass rod to act as a banner pole, it's more or less ready for primer!