All right - there's a whole mess of Alpha Legion coming, and I gotta start somewhere, right? My buddy
Dave over at Ex Fide Vivo
was good enough to give me a unit of recon marines, so Squad Effrit has now been built - the army is now 5% assembled. Heh. He's in the process of building an army of Heresy-Era Salamanders for the same event that I'm building this Alpha Legion army, should be fun to watch the two armies come together over the next couple months! I really dig these sculpts - They are chock full of character and have all sorts of neat details. I'm planning on having all of the characters in the army be un-helmeted and bald, as they strive to look like their Primarch(s) and look alike amongst themselves. "Why yes, I
am
Alpharius." Hah!
Before I dive in to the army though, I'm planning on doing a couple test minis to try out a couple different paint options so I banged together a couple marines to use as test subjects before committing to anything in resin. Going to try one with a basic blue with hard green edging/washes, one with a blue primer with a green zenithal primer/wash
like Ron over at FTW did
, and then one using the guide so helpfully provided by the very talented Zab with a
bright metal basecoat and blue/green wash method
. Should be fun, no idea which one's going to work out the best!

Of course, it's been bucketing down rain for days here, so I can't even primer anything. Hopefully we'll get a break in the weather soon!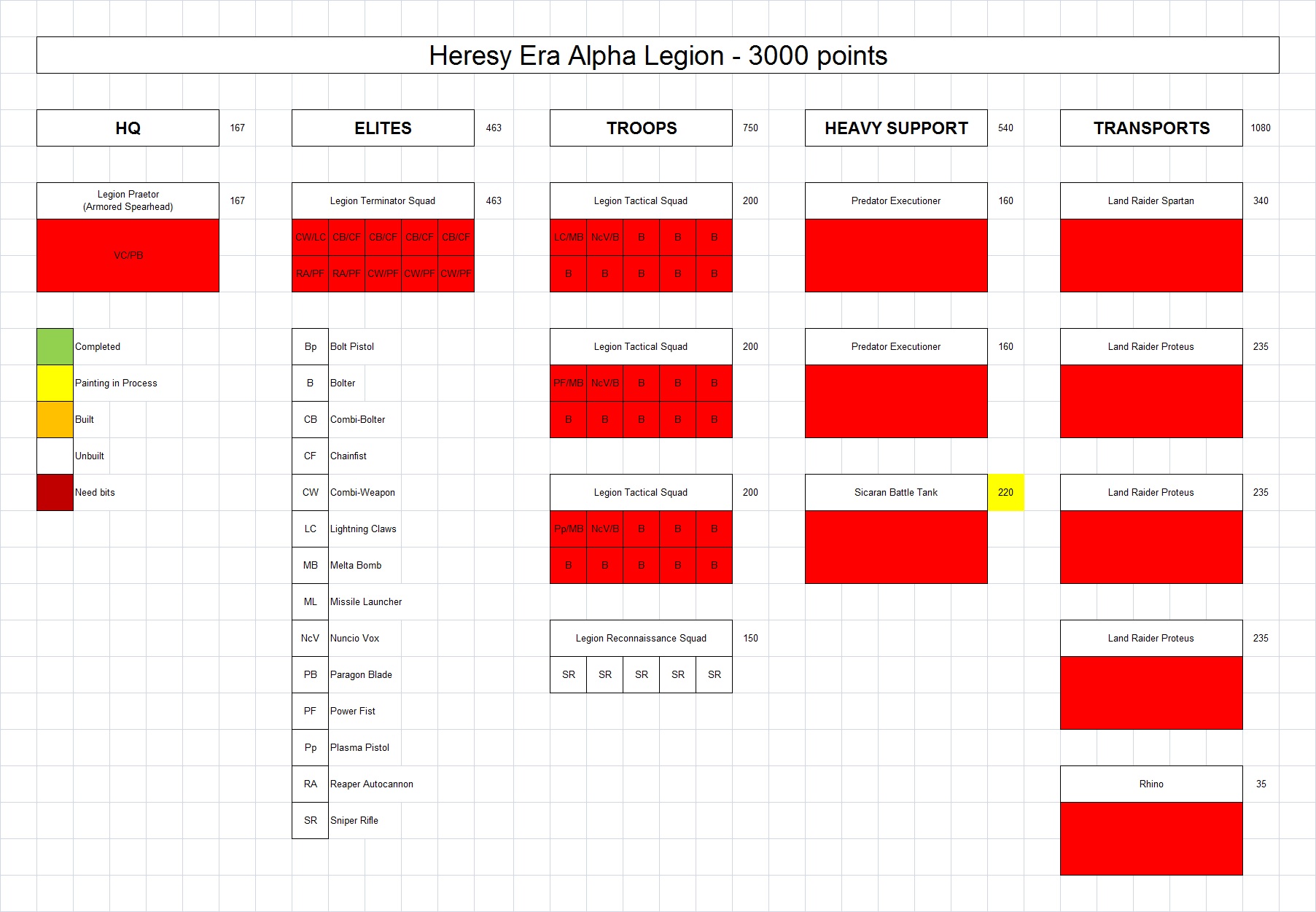 Plans are firming up for the Heresy event in January
, which will be using the Betrayal event rules that were used over in the UK recently. That means I need to buy, build and paint an entire 3000 point army over the course of the next three months. Gulp! I've got the army planned out and put together a painting chart to track the progress. It's a sea of red!